Our dried flower growers: they roll up their sleeves to harvest the very best dried flowers for us. Because without them, there will be no flowers! Buyer Juul visits our grower who has fields full of beautiful Lagurus growing.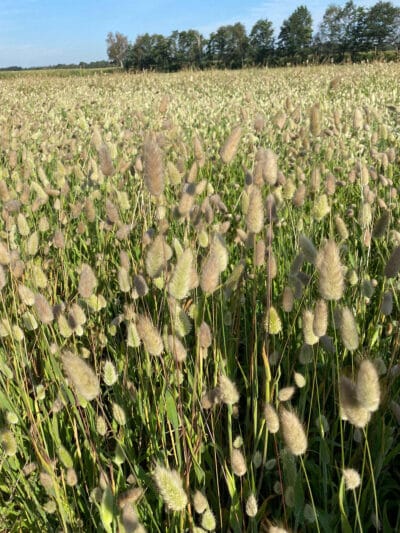 Lagurus in bloom
Fields full of fluffy small balls flutter in the wind as I walk on the land in Brabant, the Netherlands. Grower Mark began as a sunflower grower six years ago; "My piece of land has over the years grown to a hundred hectares. Last year I started growing dried flowers. There's a lot of demand for this. Just like with the sunflowers I have only started with a couple of hectares. I start with a small piece to let it grow as good as possible! "
Sunny season
"Last year the Lagurus bloomed well, partly due to the sunny weather!" With the sickle in his hand, he goes on: "We harvest everything and turn it into bundles by hand. We should be able to do this more efficiently, but for now we do everything by hand."
Long live the Lagurus
The Lagurus is a type of grass with fluffy bulbs. Beautiful by itself or in a vase in combination with other dried flowers. We often process them in bouquets of dried flowers because they are strong and last a long time.